MySpace Comments, glitter graphics, backgrounds, cursors, animated text, 3D images, photos, jokes, funny pictures & cool stuff to post on your profile, blog or website!
Helpful Tip
To use one of our MySpace comments or glitter graphics, click in the text box under the image, this will highlight all of the html code in the box. Then copy the codes and paste them into your profile, comment, blog, or webpage. For more info please visit our FAQ
MySpace Layouts, Layout Codes, Pre-Made Layouts to Pimp your MySpace Profile:

These MySpace Layouts and Layout Codes will help you pimp your profile effortlessly. You can easily change the look and feel of your MySpace profile with one of our great pre-made layouts. All you have to do is copy the codes, paste them into the "About Me" section of your MySpace profile, and enjoy your new MySpace Layout!
Featured Layout: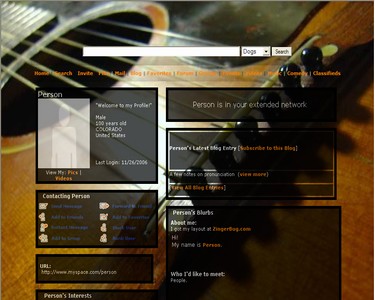 MySpace Layouts Featuring Themes or Topics

These layouts feature images designed to suit your own personality. So if you want to express your love for animals, angels, the outdoors, flowers, food, music or whatever, these MySpace layouts will help you pimp your profile in style!

MySpace Layouts featuring Patterns or Shapes

These layouts feature patterns, shapes and designs. So if you want to pimp your profile with circles, squares, diamonds, stripes, hearts, swirls, rock, wood paper patterns, or any other sort of design, these MySpace layouts will help you pimp your profile!

MySpace Layouts by Color

If you're looking for a MySpace layout that features your favorite color, these pre-made and ready to use Layout Codes are organized by color. So if you're passionate about pink or rabid about rainbow colors, this section will help you find just the right layout to pimp your MySpace profile!

MySpace Layouts for Holidays and Seasons

Celebrate the changing seasons with these great layouts designed for different seasons and holidays. Greet visitors to your MySpace profile with one of these great pre-made layouts featuring images that are just right for the specific time of the year!
ZingerBug.comô provides free glitter graphics, comments, comment codes, backgrounds, cursors, layouts, contact boxes (contact tables),
and customizable Imikimi Templates for use on social networking sites such as MySpace, Friendster, Xanga, Hi5, Orkut,
Piczo, Facebook, Blogspot, Catster, LiveJournal, Bebo, Blogger or any other website, profile or blog.