MySpace Comments, glitter graphics, backgrounds, cursors, animated text, 3D images, photos, jokes, funny pictures & cool stuff to post on your profile, blog or website!
MySpace Contact Table: Pink Virgo On White Contact Table

Pink Virgo On White Contact Table, Virgo Contact Table or Contact Box and Codes for your MySpace Profile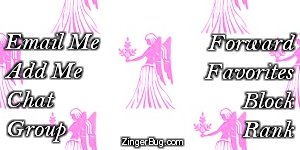 Direct Link:
Use the Direct Link to insert this contact table using any layout generator
To use this contact box copy the code from the box
and paste it into the "About Me" section of your profile.
ZingerBug.comô provides free glitter graphics, comments, comment codes, backgrounds, cursors, layouts, contact boxes (contact tables),
and customizable Imikimi Templates for use on social networking sites such as MySpace, Friendster, Xanga, Hi5, Orkut,
Piczo, Facebook, Blogspot, Catster, LiveJournal, Bebo, Blogger or any other website, profile or blog.